It is estimated that the average couple waits 6 years after the beginning of conflict in their relationship to seek professional help. Many enter the Willow Tree Counselling office on the brink of divorce or separation with doubts that their relationship is salvageable. As a therapist, I enjoy inviting clients into the neutral ground of my office and facilitating helpful dialogue. I bring hope and practical suggestions to the sessions; you bring a desire to learn new skills and make concrete, healthy changes in your relationship.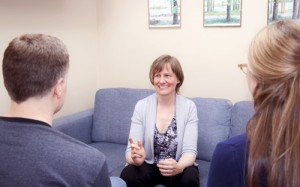 I utilize Gottman-method couples counselling.
This is a research-based couples therapy approach based on more than 3 decades of studies by psychologist John Gottman. It is sometimes known as "nuts and bolts" counselling due to its emphasis on practicality.
Gottman-method therapy emphasizes a thorough assessment phase to precisely target areas for change as well as better understand the strengths of your relationship. Identifying and mobilizing strengths is a key component of achieving meaningful change; relationship counselling needn't be dour and depressing! Sessions range from 50-75 minutes depending on session availability and you can expect the following format:
Assessment
Session 1: Couples attend the first session together. I learn about your history as a couple, we review your reasons for coming to counselling, your expectations for the relationship and your expectations for therapy. At the end of the session, I send you both home with written questionnaires about your relationship that are completed at home and then returned next session. Each member of the couple fills these out separately and take approximately 90 minutes to complete.
Session 2: I meet individually with one member of the couple and then the other, either dividing the session time in two or scheduling two separate 50-minute sessions if this is preferred. Here I learn more about you each as individuals and your respective commitment to the relationship.
Session 3: Feedback session. Based on session 1, 2 and the written materials, I help you target areas for change and identify the strengths of your relationship. We review the Gottman-method therapy in more depth and how this would frame future therapy sessions. We clarify goals and I share my therapeutic observations.
Intervention
Sessions continue at 50-75minutes each, and total sessions range in number depending on the couples' need. I generally meet with couples on a weekly basis to begin, depending on scheduling availability. As we see improvement in the relationship, we move to once every 2 weeks, then once monthly, once every 3 months and then once or twice a year. The purpose of the yearly session is to ensure that gains are being maintained over the long term.
Sessions will always start by addressing pressing or immediate issues and then will progress to skill building in the areas targeted for needing improvement. I do frequent exercises and almost always assign between-session homework. This "continues the therapy" throughout the week and helps  maximize the value you are receiving from counselling.
Ongoing client feedback is encouraged to ensure that we are on a therapeutic path that is meeting your needs as a couple.
Please note that I am accepting new couples via my waiting list only. If you require urgent intervention, I recommend asking a friend, family member or a health professional for a referral. I have also published some guidelines on choosing a counsellor who is right for you.