With the overwhelming number of Vancouver-area counsellors available, how do you find a counsellor who is right for you?  This is a critical, yet often daunting question. This is why I offer Meet Megan, reserved time each week to meet or talk with me before committing (or not committing) to counselling with me. This 15-minute consultation is available in person or by phone.
My view of therapy is that the relationship between client and counsellor is the most important factor in determining the success of your therapy experience.  The research backs this up too.  Some say that it's a therapist's method or training that makes the difference.  While these are important factors, what difference does a particular counselling method make if you can't get along with the person who is trying to help you?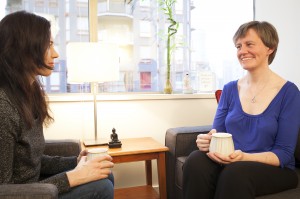 Because of the value I place on the importance of a good therapeutic fit, I encourage you to contact me to set up your 15-minute consultation before a first counselling appointment. If you have signed up for my waiting list and we have not yet spoken when your name comes up, I will be in touch with you by email to set up a time to talk first.
Booking a Consultation:  I have several 15-minute consultation times each week,  by appointment only.  This is your opportunity to ask me any counselling-related question to better help you make an informed decision about counselling including helping you to determine whether I am the right counsellor for you.  Coming prepared with some questions can help you get more out of your consultation. This time is also a chance for you to experience my office space and see whether you feel comfortable there.
These are truly no-obligation consultations!  I am never hurt or disappointed if someone chooses not to book with me.  I truly believe that there is no one perfect therapist for everyone.  I also really enjoy the experience of meeting new people and responding to your questions.
If you would like to take the next step and talk with me, please give me a call or send me an email to reserve your time and date.  If my available face-to-face times for the week don't work for you, I am happy to arrange a complimentary 15-minute phone consultation when it's more convenient for you.
If you have arranged a phone or in-person consultation with me and you cannot make that appointment time, please contact me to cancel your time so that it can be offered to someone else. 
I look forward to hearing from you!