People Before Problems
You may wonder what type of problems I specialize in.  It's sometimes the first thing potential clients ask: "Who do you see?"  People want reassurance that I can help them and experts are somehow reassuring.  "They know this sort of problem inside and out.  They have loads of experience with it.  They'll know exactly what to do."
Problem is, I don't see you as a "type" or a "problem," for that matter. What you're struggling with is just one aspect of yourself and if I saw you just from that vantage point, I really wouldn't know who you are as an individual in your own right.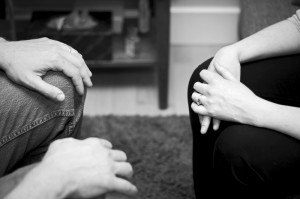 "But wait," you say.  "I need to know that you can help me.  That you're qualified. That you know more than the average person about what it is that is troubling me."  These are all excellent points.  After all, you're paying to see a therapist, not your best friend. You need to know that I'm professionally trained to help you.
Part of my growth as a therapist over the years has been taking responsibility for what I know. If you've read my Willow Tree Counselling homepage, you'll see that I meet with clients in my downtown Vancouver office for a variety of challenging issues: depression, anxiety, OCD, panic, relationship issues, trauma, addictions, eating disorders… And people tell me that they feel like they've received skilled, specific help from a professional who has heard them and understands their concerns.
But here's the catch:  I don't limit myself to a particular clientele. I could: I have a lot of experience with the problems I just mentioned.  And as a therapist,  I'm not comfortable saying, "That's it. I only see 'these' people with 'these' problems."
Benefits For You
Because I see each of my clients as unique, I don't stereotype you, generalize about you or have you "all figured out."  I take the time to truly listen to what brought you to my office and to understand what, from your perspective, is most important.
There is an expression, "The more I go on, the less I know."  What this means to me is that the more experience I gain as a therapist, the more I become increasingly willing to let go of my assumptions and "prescriptions" for others.  I am able to work more flexibly as time goes on, listening to you and seeing what's possible, even when it seems impossible.
You won't get a burned out, apathetic counsellor doing the "same old, same old."  I actually love my work and am incredibly privileged by my clients' trust; I bring this to each session with my clients, both short and long-term.
Because I've worked in a variety of settings ranging from employee assistance to psychiatric hospitals, I've helped with so many  problems that most do not phase me.  I'm prepared for the unexpected.
I recognize that people are complex and many people meet with me for help with more than one issue. Having experience with multiple problem areas allow me to help you more flexibly.
I like staying on my toes with the variety of people I see.  It keeps me current with regard to learning new therapies and techniques. I like to think outside the box.
If I don't know, I'll always admit it to you and give you referral choices.
And as always, please contact me for a 15-minute phone or in-person consultation if you want to get a better sense about who I am as a therapist and whether I would be a good therapy match for you.